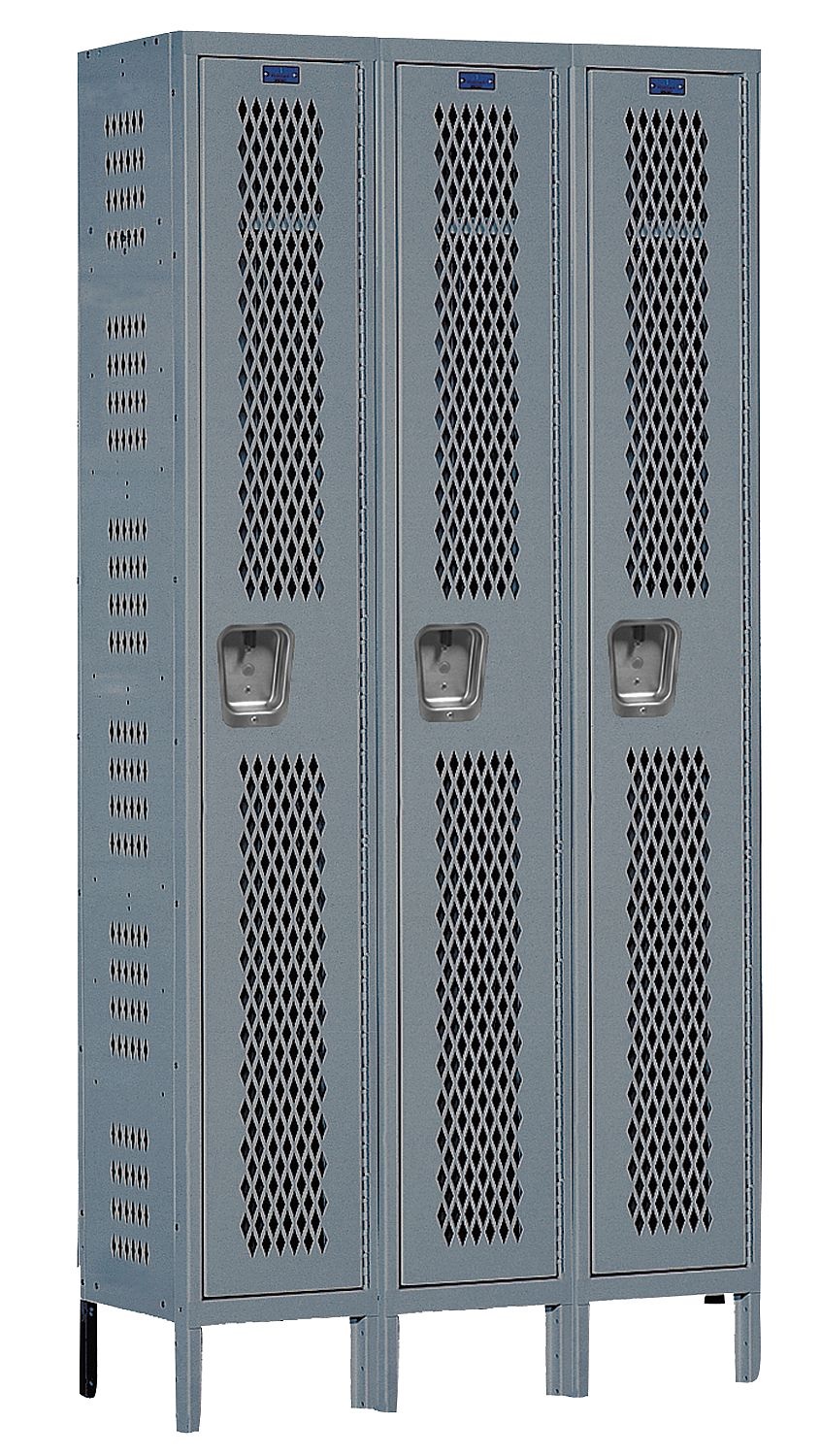 CBF Industries offers a large selection of ventilated lockers made of extremely durable, high-grade steel. Our ventilated lockers include multi-side perforations on the doors as well as the sides providing overall increased air flow. The sides and doors on the tiers have large diamond perforations and the doors on the boxes are small diamond perforations. Solid sides can be requested. Use these ventilated lockers alone or with additional lockers to create a full run of commercial lockers.
Our ventilated lockers are manufactured with overlapping and welded corners that create a rigid assembly for the door frame. The hinges also feature a full loop design and securely attach the steel doors to the frame. These ventilated lockers are designed to meet the harsh requirements of an athletic room environment. Built to last, they feature knocked down construction, rugged doors, a heavy gauge body, multiple latching options, and our premium paint finish throughout.
Standard Features:
Material: The doors of these ventilated lockers are 14-gauge mild cold-rolled steel. The bodies are 16-gauge mild cold-rolled steel, and the backs are 18-gauge steel.
Assembly: These come knocked down (KD), assembled with rivets or nuts and bolts.
Hinge: The hinges are full loop, 2″, 5-knuckle and are nested in the door slot and welded to the frame, then double-riveted to door.
Handle: The stainless-steel recessed handle comes with a plastic-protected lifting trigger. The handles can accept a customer-provided padlock, or you can choose to use the built-in lock. The handles meet ADA requirements for accessibility.
Latching: Tiered, quiet, multi-point latching on the heavy gauge frame hooks with the rubber silencers that reduce noise. A concealed quiet lock bar locked in place and isolated from metal-to-metal contact by polyethylene glides ensure almost noise-free operation.
Optional Features:
Material: The doors can be ordered with either 14- or 16-gauge galvannealed steel.
Assembly: Available with Keps nuts and bolts, or rivets.
Handle: Optionally available 7-gauge steel turn handle for three-point latching at top, side, and bottom of the locker.
Hinge: Available with a continuous piano hinge.
Ventilation: Louvers, full louvers, and mini-louvers are also available.
If you're struggling to find a reliable ventilation locker supplier, give CBF a call. Even if you don't need a new set, our representatives are available to help you with manufacturer or other issues. CBF provides turnkey storage offerings at the most competitive pricing. For fast delivery and a responsive team, call (216) 877-8480, request a quote, or contact us online.