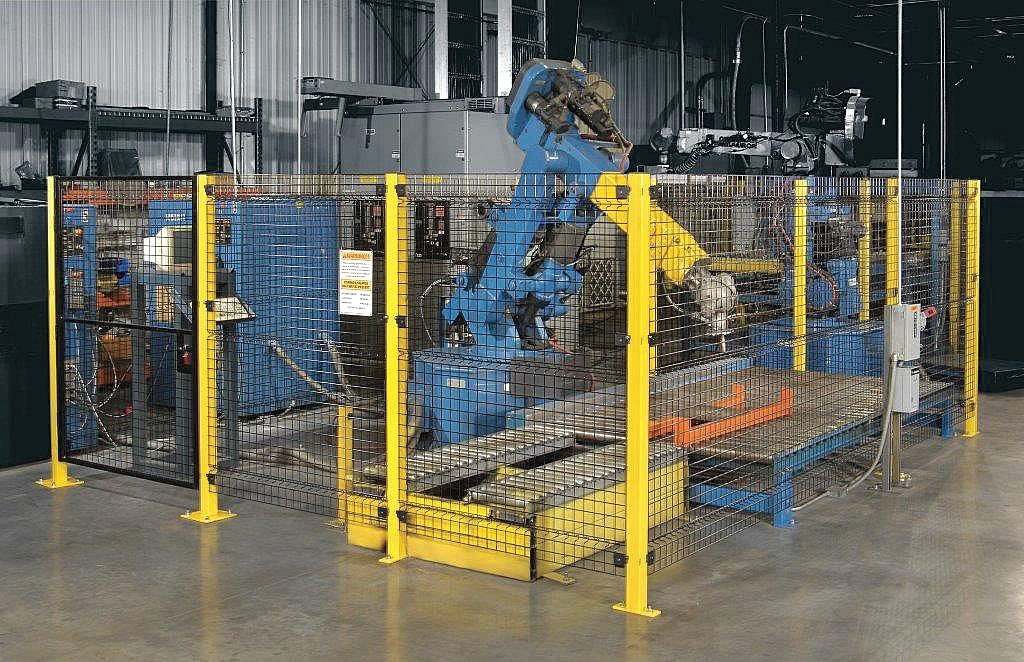 Velox Machine Guarding — Keep Your Employees Safe
CBF's Velox machine guarding provides for maximum safety within your facility. Hook fasteners on the partitioning easily slips in and locks securely into square posts, making installation simple and fast. Our grid wire mesh is manufactured from 8-gauge welded wire that adds strength and rigidity.
The complete Velox machine guarding system makes it easy to rearrange or expand enclosures without skilled personnel in plant or warehouse areas. With a variety of sizes, styles and options available, our Velox machine guarding systems provide the best value in the industry.
You probably already realize the risk your machinery is to employees and that's why you're seeking Velox machine guarding. We can help you configure machine guarding, welded wire cages, or wire partition systems that will ensure you are in compliance with OSHA. Most importantly, you'll know your employees are safe. Machine guarding is typically the best approach to ensure safety and keep you from facing stiff fines.
Velox machine guarding allows you to quickly create a safe-zone perimeter around any type of machinery and equipment. It offers high visibility for both vehicles and pedestrians and can be modified on-site to suit your specific needs, all with the goal of avoiding accidents.
The main features of the Velox brand of machine guarding includes:
Lightweight, yet strong 8-gauge wire panels.
Pre-welded clips allow you to quickly lock panels in place.
Reinforcing ridge adds extra stability without adding weight.
Our posts give you the greatest strength and stability in the market.
The cut-to-fit feature allows you to make each panel customizable. Simply cut on-site to create a perfect fit. When panels are resized, bolt-on clips can replace standard welded clips, making the Velox machine guarding incredibly versatile.
Fast assembly! Velox is the fastest assembling machine guarding system. The patented hook fastener system makes it easy to quickly slide the guarding into the slots on each post. The attached fastener is then simply threaded into the slot to lock the panel securely in place.
The Velox machine guarding system comes with doors, posts, and latches/locks:
Doors: Add an access point to any part of your Velox machine guarding. Choose from a swinging door, a single swinging or sliding door, or a double swinging or sliding door through which you could move large equipment. Each door can work into 6' or 8' height configurations.
Posts: We offer four kinds of posts for maximum flexibility, including basic posts for straight lines and 90-degree corners, and adjustable corner posts for inside corners and odd angles. There are also two kinds of door posts to accommodate swinging and sliding doors. All posts are available in 6′ or 8′ height configurations.
Latches/Locks: You can use either a regular latch or an interlock that turns off machinery when opened for the ultimate in employee safety.
For customization options such as special sizes, Lexan, or sheet metal panels, give CBF a call at (216) 877-8480, request a quote, or contact us online.