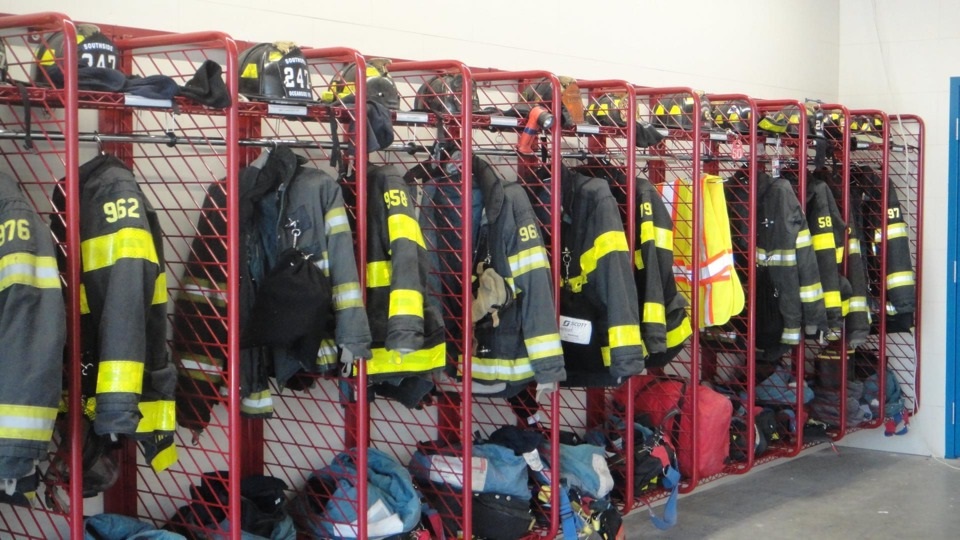 #1 Ready Rack Lockers Distributor
CBF Industries appreciates the storage needs of all emergency responders. CBF Industries ready rack lockers create organized personal storage in an open-air design. These ready rack lockers are made from destruction-free, durable material, making them ideal for any environment needing storage space with quick access.
Our modular design offers a unique benefit in that a variety of configurations are available for the diverse needs of first responders. Open-front lockers provide quick access to emergency gear. Double doors add security to store your mission-critical gear. An upper locked compartment or a bottom drawer can secure both personal items and equipment.
If you can think it, our modular design can probably bring it. Choose the features that accommodate your specific storage needs. A full range of ready rack locker accessories complements the standard options.
CBF's ready rack lockers are manufactured with a heavy-duty zinc chromate finish and protected with a special clear-coat sealer. Units are supplied with varying levels of open-wire shelving depending on your requirements.
Standard features —
Material: The body is a 16-gauge mild cold-rolled steel (backs are 18 gauge on KD units). If you order doors, they are 14-gauge mild cold-rolled steel.
Assembly: These ready rack units are welded construction, knocked down (KD), and assembled with rivets or nuts and bolts.
Interior Equipment: The standard ready rack locker comes with one full-width 16-gauge shelf, four single-prong coat hooks, and a coat rod.
Hinge: Full loop, 5-knuckle hinges are nested in the door slot and welded to the frame, then double-riveted to door.
Handle: Each unit comes with a stainless-steel recessed handle with plastic-protected lifting trigger. You can use your own padlock or a built-in lock. All handles meet ADA requirements for accessibility.
Latching: One of the favorite features of these ready rack lockers is the quiet, multi-point latching on heavy gauge frame hooks with rubber silencers that reduce noise. The concealed quiet lock bar locks in place and is isolated from metal-to-metal contact by polyethylene glides.
Ventilation: Our standard ready rack lockers come with diamond-perforated sides. Solid sides can be requested for either row ends or all sides.
Optional features:
Material: The bodies are available as 16 gauge galvannealed steel.
Assembly: Our ready rack lockers can come assembled with Keps nuts and bolts.
Interior Equipment:

Footlocker: Fully enclosed footlocker with 14 ga. ventilated front panel and reinforced seat with continuous hinge. Front panel has recessed area and mounted padlock hasp for locking.
Lockable Compartment: Available in 12″ or 24″ width. 16-gauge vertical partition and 14 gauge door with framing members attached to the shelf, side, and top of the ready rack locker to provide lockable storage. For safety, a spring hinge holds the door closed. Can accept either a padlock or a built-in lock.
Drawer: 16-gauge drawer face welded to and 18-gauge body to form a rigid box. Framed in 16-gauge members and mounted to heavy duty drawer glides rated to 200 lb. capacity. Can accept either a padlock or a built-in lock.
Partitions and half shelves: 16 gauge vertical and horizontal dividers provide additional ways to use the interior space.
If you're seeking a ready rack locker specialist, give CBF a call at (216) 877-8480. Our specialists will work with your team to optimize your space and provide solutions that fit your storage requirements and modes of working.