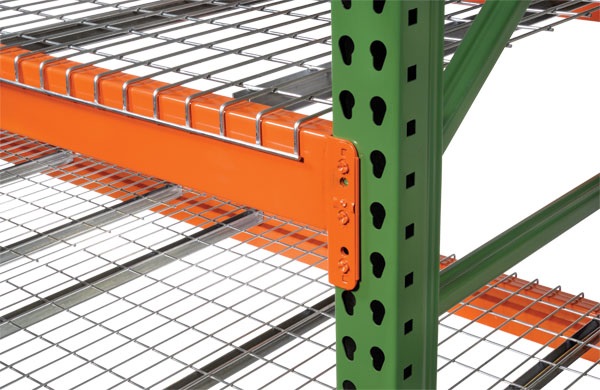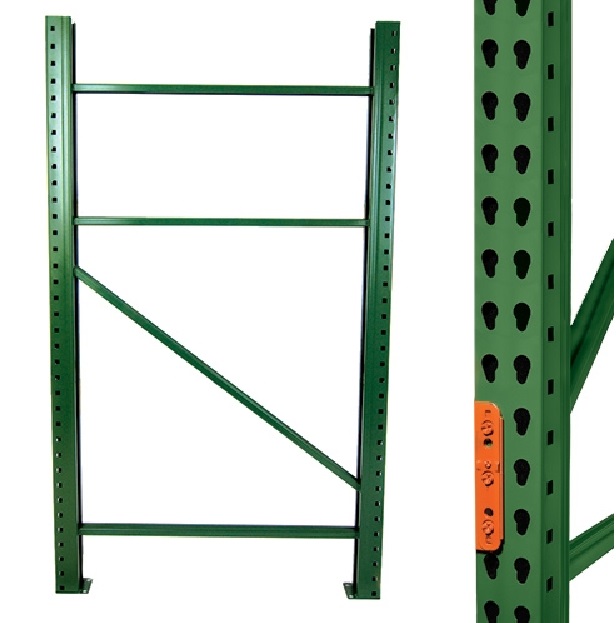 Pallet Rack Uprights From One of the Top Specialists in the Industry
CBF Industries is a specialist in storage equipment, providing full-service storage space design and installation. Our pallet rack uprights are one of our most installed products due to their ease of installation, durability, and safety features. Specifications and a full-list of features are provided below.
CBF Industries' pallet rack uprights can be built up to 46 feet high and are made in America with only U.S. high-strength steel. Our uprights are components of our total pallet rack systems and can be purchased separately as needed. Because they are designed to be compatible with other industry products, they carry the universal teardrop design for easy installation and adjusting.
The design of our roll-formed pallet beam uprights provides a far superior strength-to-weight ratio. Optimized slot sizes allow for more steel per upright. Each upright is 100% mig-welded with a precise K-brace along with cross channel industrial reinforcement. The tapered keyhole slots are on 2″ centers, which provides an easy — and quick — vertical adjustment of the pallet rack beams. This means there are no obstructions within the posts that impede movement of the beams vertically along the entire upright. The flexibility and versatility in design also allows other traditional teardrop designs to be interchangeable with our pallet rack uprights. Over time, this gives you the option to upgrade damaged uprights and beams. There will be no need to change the entire system when you decide to upgrade or replace existing parts of your pallet rack system.
Need them now? Our pallet rack uprights are typically available in 48 hours or less.
PALLET RACK UPRIGHT FEATURES:
Choose uprights to suit your storage requirements: Light Duty – 3" x 1-5/8", 14 gauge; Medium-Duty – 3″ x 2-1/4″, 14 gauge; Heavy-Duty – 3″ x 3″, 13 gauge.
Two frames are required per bay, and any number may be joined together in continuous row applications.
Made in the USA: We're proud to say our pallet rack uprights are assembled in the USA! Each upright is made of 100% U.S. steel. (Avoid supply chain issues and show your pride in America by ordering your pallet rack uprights from CBF Industries.)
Industry-standard: Our pallet rack attachments offer two adjacent teardrop punches on 2" centers which make them compatible with most other pallet rack systems. The teardrop style punches are offered in about 93% of all pallet rack systems.
Configurable: Constructed of high-strength steel, our pallet rack uprights are configurable up to 46 feet without splicing.
Safe: The Bowlock safety clip locks beams in place to ensure integrity even upon heavy impact.
Standard color: Our pallet rack uprights are #31 (Lake Green).
If you're struggling to find a reliable pallet rack upright specialist, give CBF a call. Even if you don't need a new pallet rack system, our representatives are available to help you with manufacturer's configurations or capacity issues. We can even help with inconsistent beam colors and heights, or to come into compliance with OSHA, ANSI and RMI standards.
CBF provides turnkey pallet rack offerings at the most competitive pricing. For fast delivery and industrial racking solutions, call (216) 229-9300, request a quote, or contact us online.