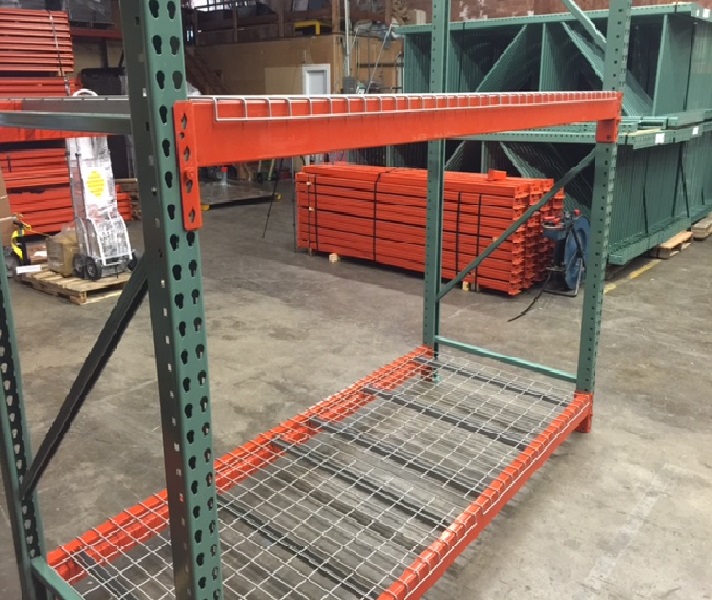 Pallet Rack Wire Decking from One of the Top Distributors in the Midwest
CBF Industries is your one-stop shop for storage equipment, space design, and pallet rack wire decking installation. Our pallet rack wire decking is one of our most popular products due to its affordable cost and ease of installation.
CBF offers the most cost-effective galvanized pallet rack wire decking. Each deck is reinforced with formed galvanized steel channels that are welded to the wire mesh. Pallet rack wire decking is strong, safe and easy to install. Testing has shown that CBF's decking will outlast and outperform painted and powder-coated decks. We offer a large selection of styles, finishes, and sizes to help you get it right the first time.
Style: Standard Waterfall (w/standard channel)
Our standard waterfall pallet rack wire decking is designed with a bent 90°edge that overlaps the horizontal support beam of the pallet rack. This ensures the wire decking will remain in place even upon high impact. Some of the features include:
Easy installation
Resistance to abrasion
Light-reflective due to its bright coating
Durable — extensive life of the product
Coated with a non-peel zinc metallic bond
And best of all… it's 100% Made in America!
CBF's Pallet Rack Wire Decking Comes with a Standard Channel
To ensure integrity in installation, there is a channel welded to the wire decking that is designed for use on racks with step beams. The channel end is cut square and perpendicular to its overall length, allowing it to rest between the support beams.
Wire Decking Construction and Configuration
CBF's wire decking is manufactured to stringent specifications. All channels are formed from cold-rolled sheet steel. Our experts work with your team to determine requirements such as rack configuration, size, and working load. Then, the wire decking is selected along with the pattern and number of channels needed to provide the desired result.
Pallet rack wire decking varies so there is more than one way to configure a solution for your needs. For this reason, we require our wire decking manufacturers to be flexible so that we can work with them to develop a solution that best delivers to the needs of our customers.
From pallet rack wire decking to retail shelving systems, CBF provides one-stop product offerings at the most competitive pricing. CBF is known for its superior products, fast delivery and space saving solutions. Call (216) 229-9300, request a quote, or contact us online to learn how CBF Industries can solve your storage requirements.