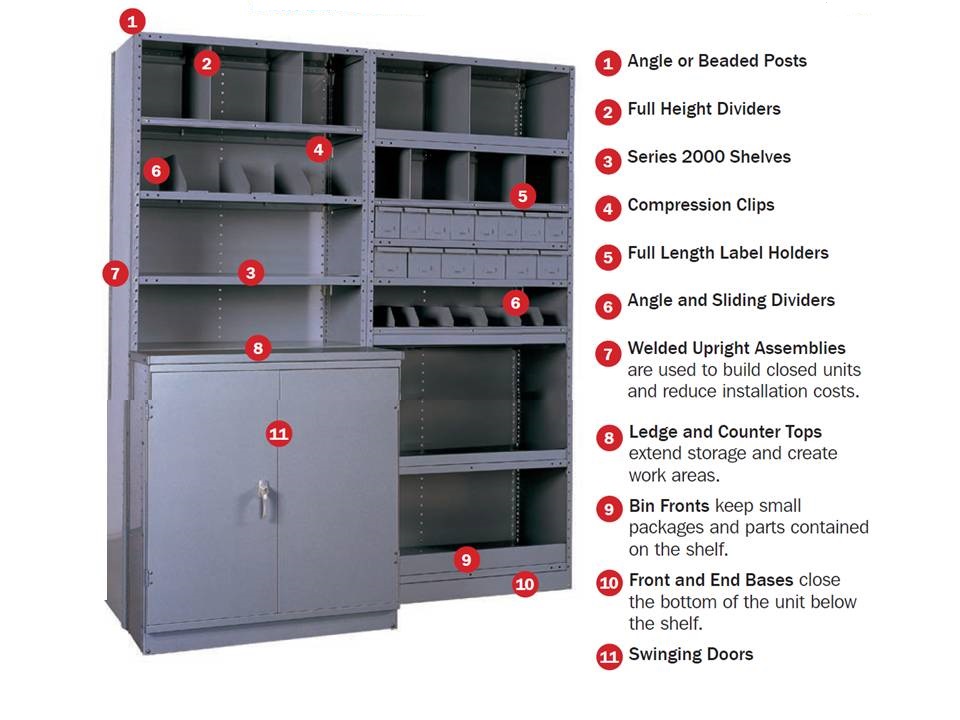 Industrial Clip Shelving Solutions from the Industry Specialists
At CBF, we offer complete industrial clip shelving solutions for everything from basic backroom storage to integrated warehouse applications. Our specialists are trained in optimizing space against the intended use expressed by our customers. Our clip shelving systems are configured from posts, shelves, and compression clips. These systems can be enhanced with bins, boxes, dividers, and drawers to maximize available space and create efficient storage solutions.
Our industrial clip shelving is manufactured in the widest range of sizes and configurations available. This creates a powerful combination which can meet the most demanding of customer installations. The flanged shelves are cold rolled steel which provides incomparable strength on all four sides.
The standard color and finish is grey. However, there are eight additional colors that are available for a slight upcharge: blue, red, sky white, putty, mist gray, black, pearl white, and sand. Alternate color orders may result in a slight delivery delay.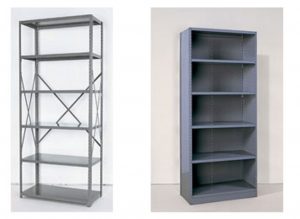 Standard Shelving
Standard shelves are available in 24″, 30″, 36″, 42″ and 48″ widths. The depths available are 9″, 12″, 15″, 18″, 24″, 30″ and 36″.
Each industrial clip shelving component has a rust resistant phosphatized application for better paint adhesion, providing for longer life and durability. A proprietary powder-coat paint is applied electrostatically and then cured to ensure outstanding appearance. The process also provides for an environmentally friendly product.
Flange Shelving
Flange Shelves are available in both 20 GA and 18 GA material thickness. Class 0 Re-Bar is designed for applications that do not require extreme load bearing strength. The addition of 1 Re-Bar will increase bearing strength by about 50%. The addition of 2 Re-Bars will increase the bearing strength by over 100%.
Box Shelving
Box Shelves are constructed of 22-, 20- or 18-gauge steel with full welded box formation in front and back of the shelf and have formed channels on both ends. All corners are lapped and welded for additional strength. The box formation is welded on a 6″ center minimum to provide integrity the entire length of the box. All shelves have a box profile height of 1-1/4″. All box shelves accommodate either clip or nut and bolt connection to the upright.
Post Types
CBF offers roll-formed box and companion offset angle post types. The box post provides unobstructed shelf access. One box post takes the place of two angle posts at the front of a shelving unit. The offset angle post reduces shelf accessibility by 1 inch per end, although the field length is nominal to the dimension ordered. Box style post heights range from 3'1″ to 11'3″. Offset angle heights range from 3'1″ to 12'3″. Both styles are manufactured in one-foot increments. All posts are 14-gauge steel. Shelves can be either clipped or nut-bolted to the post. Heavy-duty box style and offset posts in either 13 gauge or 12 gauge are also available.
If you're seeking a reliable industrial clip shelving specialist, give CBF a call. Our specialists will work with your team to optimize your space and provide solutions that fit your storage requirements and modes of working.
Call CBF at (216) 229-9300, request a quote, or contact us online.