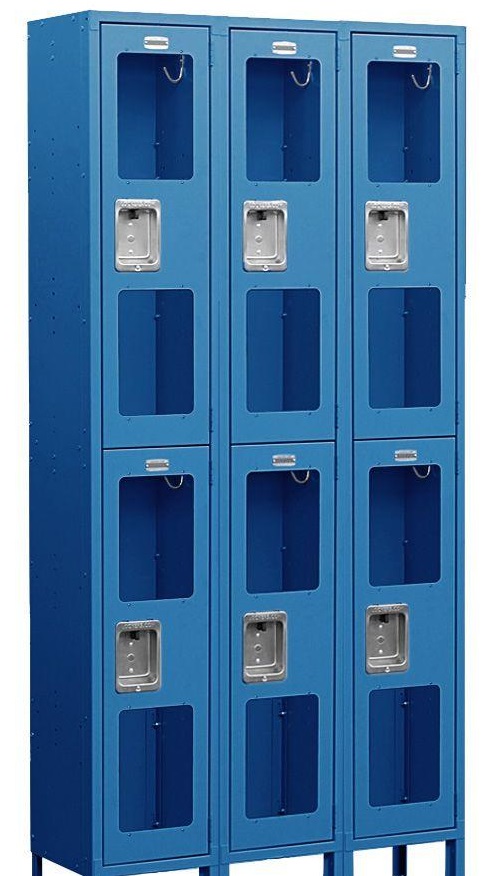 Contents of see through lockers (also known as c-thru, clear-view, or clear door lockers) are clearly visible without the need to open the locker. CBF Industries offers a wide variety of see through lockers and provides full-service storage space design and installation.
Our see through lockers provide storage security and visibility for applications including industrial, school, recreational, retail, and more. CBF's see through lockers are made of high-grade steel for long-lasting durability and dependability. Each locker includes a lift handle and recessed hasp, and accommodates combination- or key-locks for added security and theft protection. They are available in a wide variety of sizes and colors depending on your applications. Below are some of the standard features available — please call us to discuss your see through locker needs and to discuss any custom features you may desire.
Clear Door Panel: Clear yet strong acrylic doors offer visibility of locker contents for security reasons.
Secure Acrylic: The door panels are positioned in steel channels and riveted to maintain the door's integrity.
Heavy-Duty Frame: The welded door frame on our see through lockers is constructed of 16-gauge steel for added rigidity.
Locking Bar: A steel locking bar offers strength, while spring-actuated latches provide secure and quiet latch operation.
Heavy-Duty Knuckle Hinge: The extra-strong five-knuckle hinge with secured pin offers added content protection and durability.
Vandal-Resistant Handle: The recessed handle design on steel doors with visual door panels is vandal-resistant, providing a measure of security your patrons will appreciate!
Shelf Design: The triple bend on the flange offers added safety.
Hat Shelf: These handy shelves are available as an added option and work great for personal items. These are available on single-tier see through lockers only.
Quiet Operation: The quiet door closing feature is effectively dampened with carefully placed bumpers.
Leg Options: Our see through lockers are available with or without legs. We have optional front- and end-bases available to enclose the base. We recommend using a closed base for lockers without legs.
Durable Finish: The powder-coated finish keeps it acting tough and looking good for many years.
Colors: There is a large color selection available to complement any setting.
CBF provides see through lockers at the most competitive pricing. For fast delivery and a responsive team, call (216) 877-8480, request a quote, or contact us online.